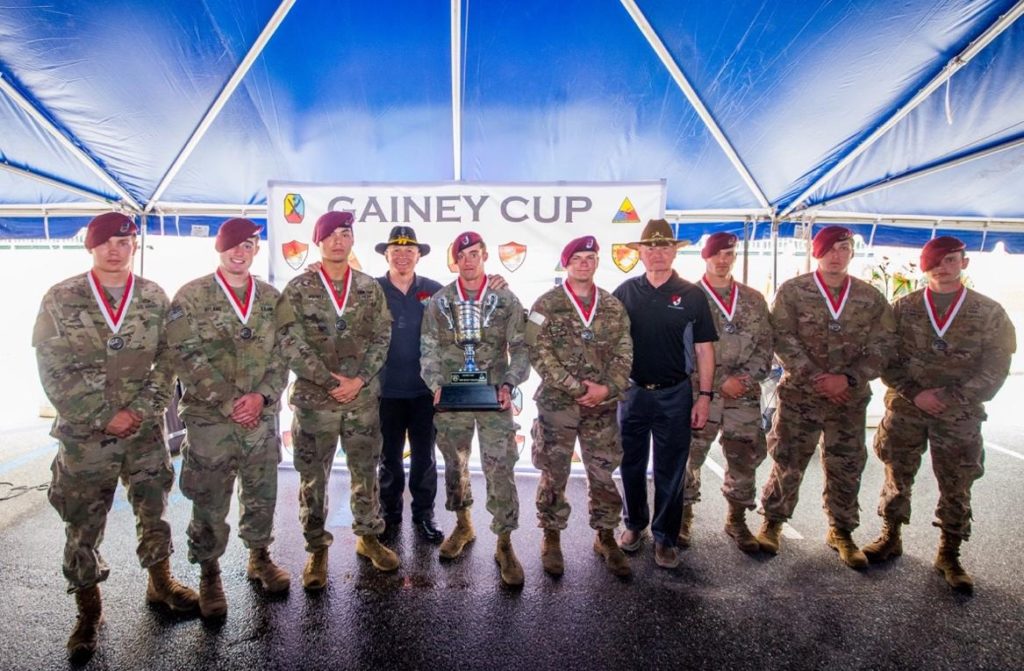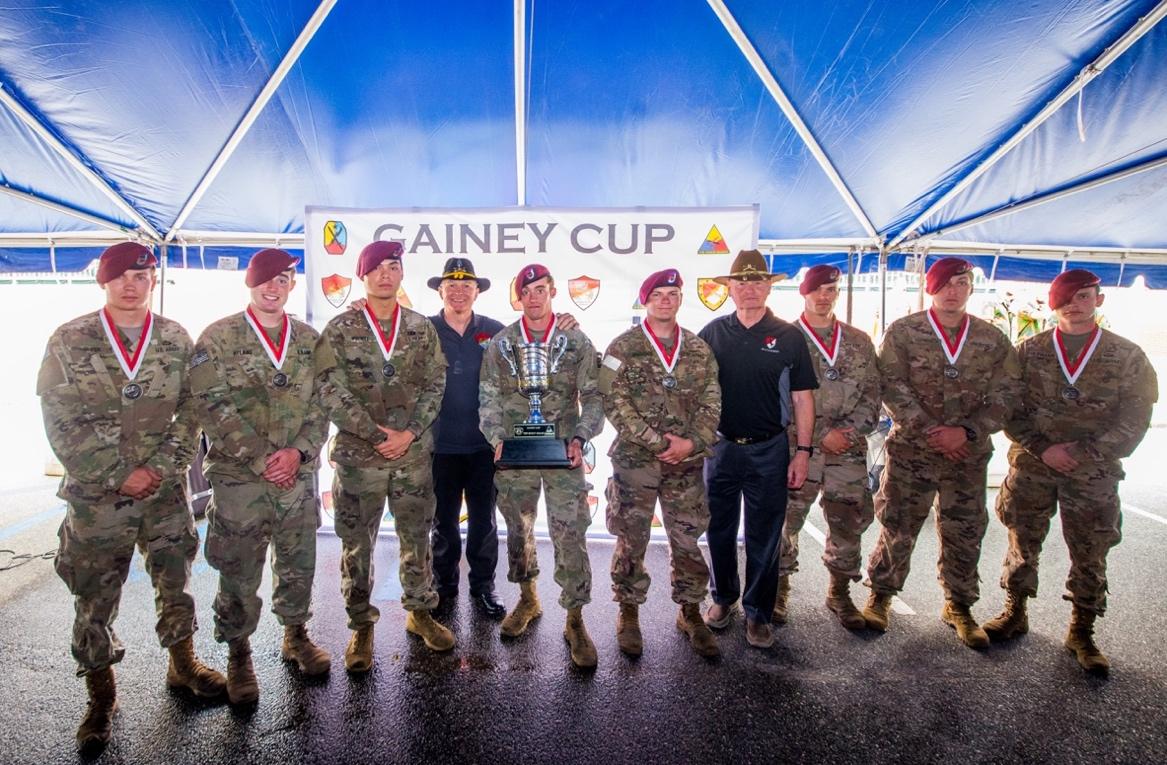 Gainey Cup Best Scout Squad Competition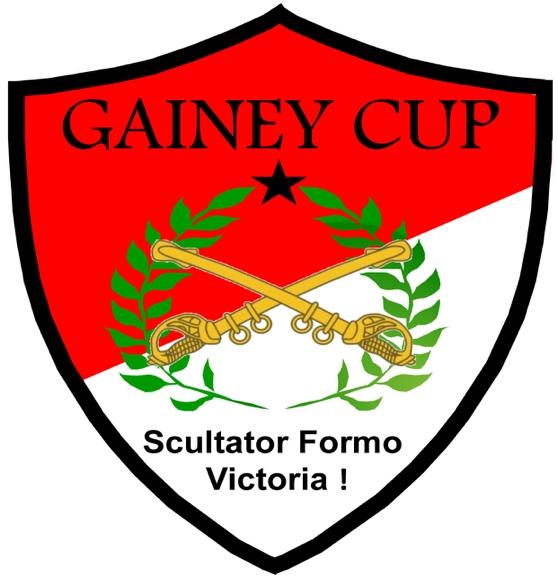 The Gainey Cup Competition showcases the competence, physical and mental stamina, and competitive spirit of Cavalry Scout Troopers serving in formations that perform Reconnaissance and Security.
The Gainey Cup Competition keeps the competitive edge of Troopers sharp while they are with units that are not currently engaged in combat operations around the world.
The Department of Reconnaissance and Security will recognize the Army's "Best Scout Squad" by running them through a gauntlet of rigorous reconnaissance and security events. These events will challenge your Scouts' physical and mental ability to conduct reconnaissance and security operations in close proximity to enemy forces and civilian populations, while informing the commander's Priority Intelligence Requirements. They must be able to employ fires, enablers and report to develop situational understanding. Finally, the Scout Squad will be evaluated on their ability to provide early warning and decision space for the commander, developing the situation when necessary through direct action.
Command Sergeant Major Joe Gainey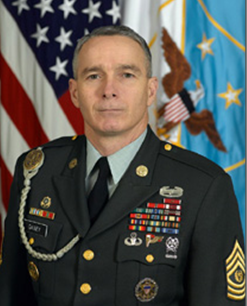 CSM Gainey was the first Senior Enlisted Advisor to the Chairman of the Joint Chiefs of Staff, a newly created position established to advise the Chairman on matters of professional development of enlisted personnel assigned to joint billets. He was the first person selected to serve in this position beginning October 1, 2005. CSM Gainey enlisted in the Army under the Delayed Entry Program in 1974 and entered Basic Training at Fort Knox, KY., on June 17, 1975. Since then, he has served in a number of enlisted leadership positions, from Gunner to Command Sergeant Major. He retired after nearly 33 years of service to the nation on April 25, 2008. CSM Gainey's assignments include: Driver, Loader, Gunner, and Tank Commander in the 1st Battalion, 67th Armor (Tiger Brigade), 2nd Armored Division, Ft Hood, Texas; Gunner, Tank Commander, and Platoon Sergeant in the 4th Battalion, 73rd Armored, 1st Infantry Division, Böblingen, Germany; platoon leader in the 2nd Battalion, 70th Armored, 24th Infantry Division, Fort Stewart, Ga.; Drill Sergeant and Senior Drill Sergeant in the 19th Battalion, 4th Training Brigade, Ft Knox, KY.; Platoon Sergeant and Operations Sergeant in the 3rd Battalion, 73rd Armor, 82nd Airborne Division, Fort Bragg, N.C.; Platoon Sergeant and First Sergeant in the 1st Battalion, 509th Infantry Airborne, Joint Readiness Training Center, Little Rock Air Force Base, Ark.; Senior Enlisted Armor Branch Advisor, Fort Jackson, S.C. CSM Gainey served as the Command Sergeant Major for the 2nd Battalion, 68th 
Gainey Cup Best Scout Squad Competition
Armored Regiment, and 1st Battalion, 35th Armored Regiment, 2nd Brigade Combat Team, 1st Armored Division, Baumholder, Germany; Eagle Base, Bosnia and Herzegovina; 1st Squadron, 2nd Armored Cavalry Regiment, Fort Polk, La.; 2nd Brigade, 3rd Infantry Division, Fort Stewart, Ga.; 2nd Armored Cavalry Regiment, Fort Polk, La.; The United States Army Armor Center, Fort Knox, KY; and as the Command Sergeant Major for the III Corps and Fort Hood, Texas.
CSM Gainey served in Operation Joint Endeavor (IFOR), Operation Joint Guard (SFOR 3) and Operation Joint Forge (SFOR 8) in Bosnia and Herzegovina. He served as the Command Sergeant Major for the Combined Joint Task Force 7 (CJTF-7) and as the Command Sergeant Major of the Multi-National Corps Iraq (MNC-I) in Operation Iraqi Freedom II.
CSM Gainey attended numerous military schools and training programs to include: the U.S. Army Drill Sergeant School; U. S. Army Airborne School; U.S. Army Jumpmaster School; Air Movement Officer's Course; Observer Controller Course; First Sergeants Course; Pathfinder School; and the U.S. Army Sergeants Major Academy, Class 41.
Anecdotally, CSM Gainey was known to his Soldiers to carry a steel ball bearing from an Abrams tank in his pocket which he called his "military bearing". He would encourage Soldiers to challenge him by asking if he had his "military bearing". If he was able to respond to the challenge by producing it, both he and the challenging Soldier would drop and do push-ups. If he did not have it, the Soldier would be awarded a battalion coin.
CSM Gainey is an Order of St George Gold Medallion recipient.
Gainey Cup Winners
2013 U.S. Army Best Scout Squad, 1st Squadron, 40th Cavalry Regiment, 4th IBCT (Airborne), 25th Infantry Division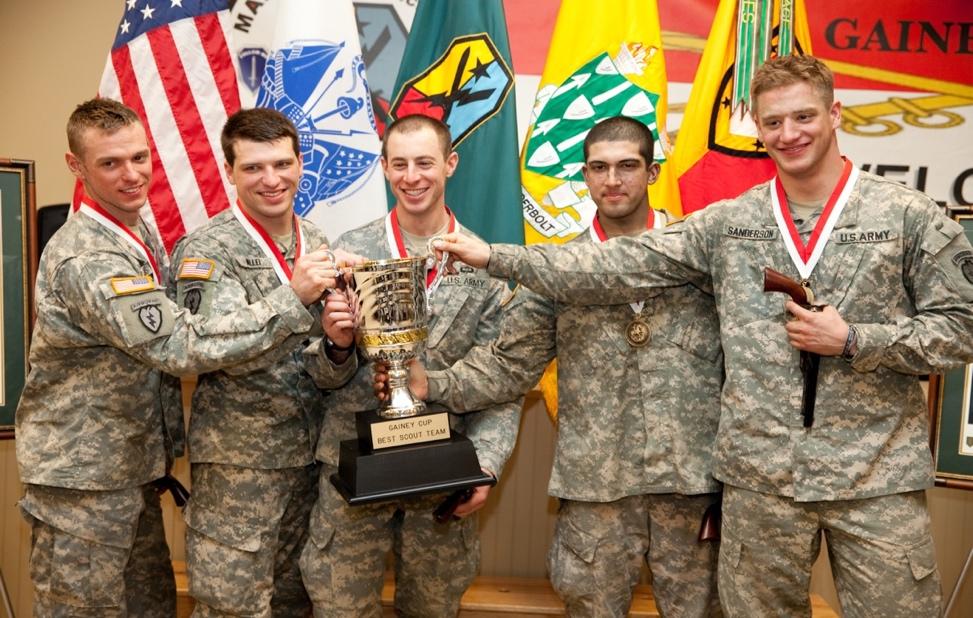 2013 Best Scout Squad
 SSG Justin Miller
SGT Zachary Adkins
SPC Alexander Berlin,
SPC Mitchell Sanderson
PFC Joseph Calderon.
Gainey Cup Best Scout Squad Competition
2015 U.S. Army Best Scout Squad, 4th Squadron, 42nd Cavalry Regiment, Vilseck, Germany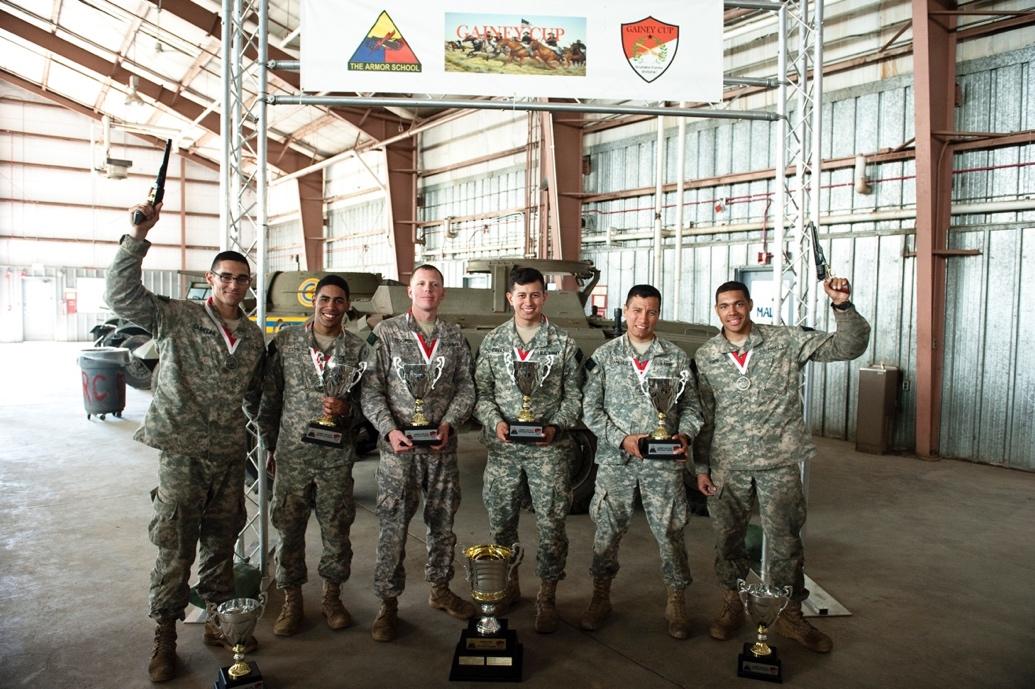 2015 Best Scout Squad
SSG Kyle Cooper
SGT Cesar Cavazos
SPC Glen Gianello
SPC Joshua Castro
PFC Justin Cope
PFC Daniel Casillas
2017 U.S. Army Best Scout Squad, Comanche Troop, 1st Squadron, 1st Cavalry Regiment, 2nd ABCT, 1st Armor Division, Fort Bliss, TX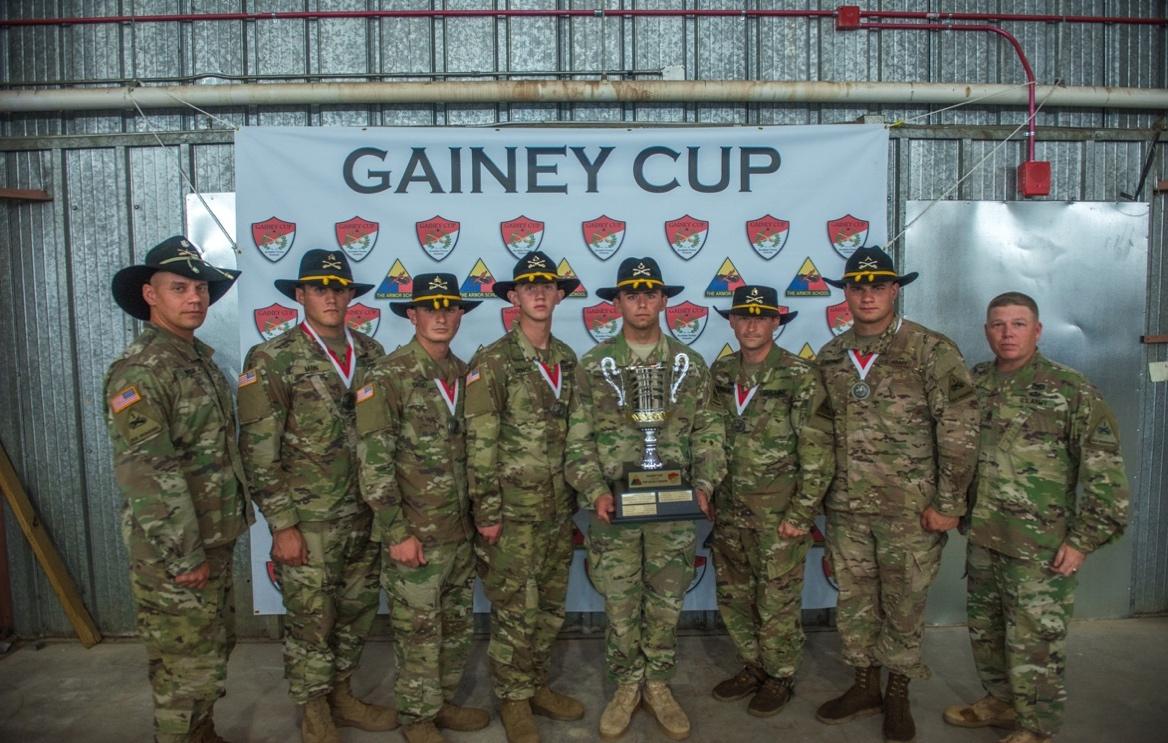 2017 Best Scout Squad
SSG Eric Atkinson
SGT Joseph Main
SGT Zachery Diglio
PFC Ryan French,
PFC Timothy Wood,
PFC Jeremy Blevins,
2019 U.S. Army Best Scout Squad 5th Squadron, 73rd Cavalry Regiment, 82nd Airborne Division, at Fort Bragg, NC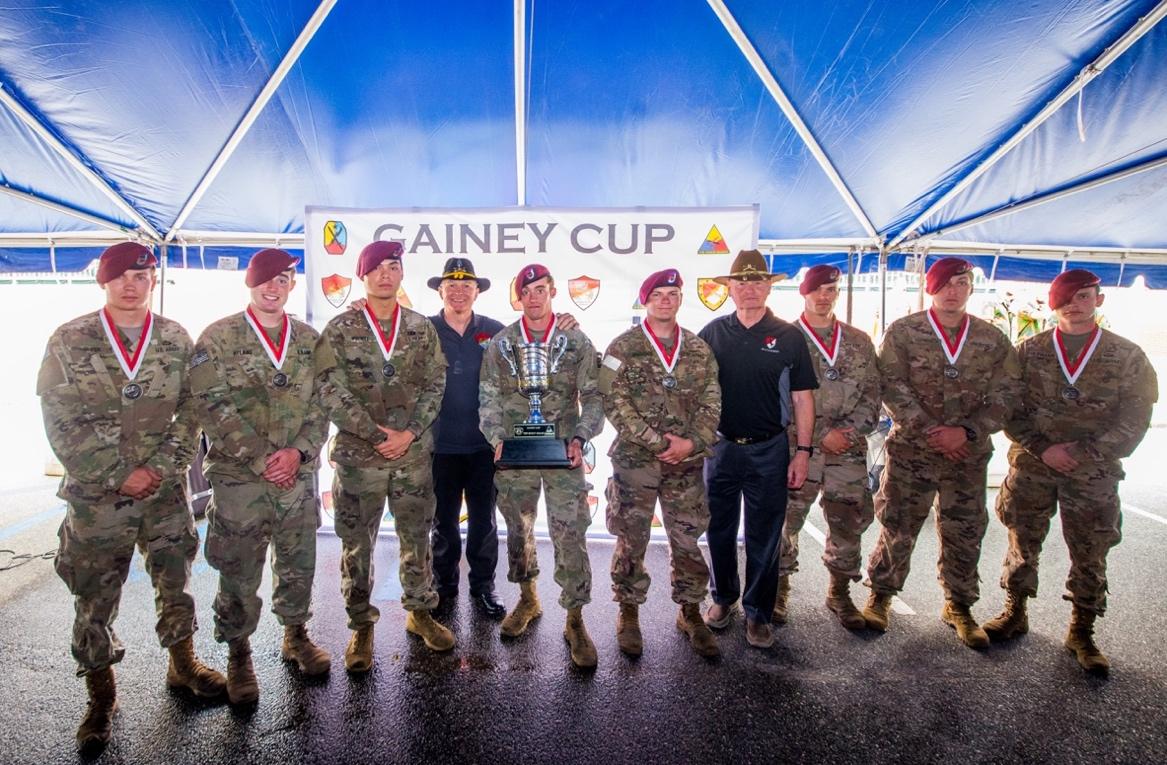 2017 Best Scout Squad